News & Events
Terry Allbee recipient of the 2017 Habitat Award
2/13/17 (Mon)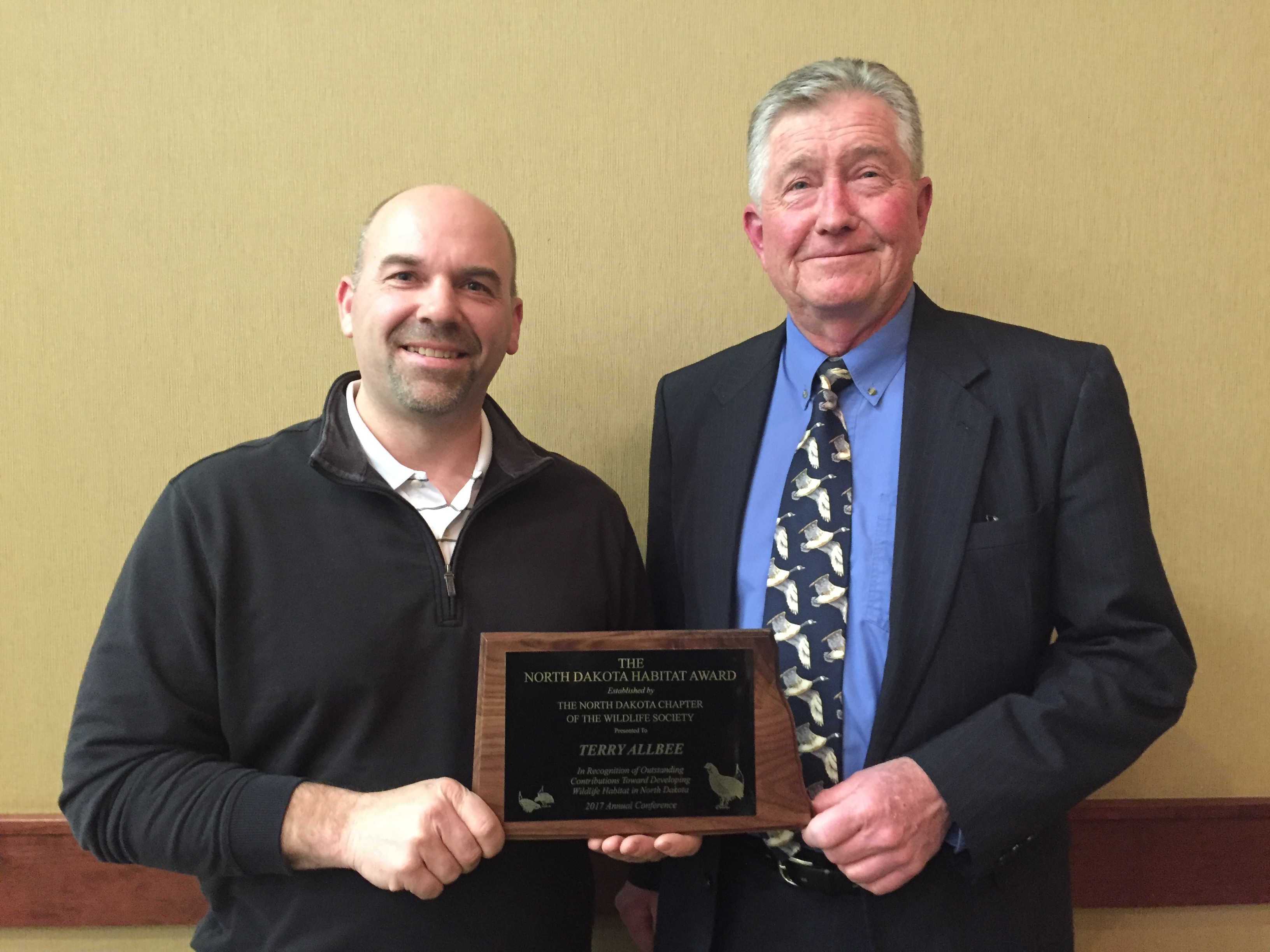 Terry Allbee, Business Manager/Senior Biologist pictured with Keith Trego, Executive Director
Terry is the business manager and biologist for the Trust. He is a graduate of South Dakota State University, having experience in fisheries, endangered species and wildlife resources. His responsibilities consist of daily business activities as well as coordinating Trust conservation programs. He has been a dedicated employee of the Trust's since 1999.

Throughout his years at the Trust he has been involved in administering numerous grants, easement projects, land purchases and has coordinated effectively among several agencies and NGOs to establish habitat on the ground.

Terry has a long and impressive list of on-the-ground program accomplishments representing his unique ability to take a concept from the strategic development phase to the delivery phase, creating partnerships and funding mechanisms along the way. In addition to these proven abilities, perhaps Terry's most impressive accomplishment is his ability to balance biological work with administrative work. Terry handles all the Trust's business management, from all aspects of accounting to investment coordination. He also assists several other conservation partners, both agencies and NGOs, with their habitat delivery by keeping separate accounts for their funds, handling invoicing and payables and negotiating all agreements for these services. In this manner Terry contributes to yet more on-the-ground habitat delivery by enabling these partners to perform their work in a manner that would not otherwise be possible.

It is hard to overstate the incredible value of Terry's professional skills, his personal integrity, his work ethic, and the diversity of talents he brings to our collective work of conservation delivery. Neither the Trust nor many of our partners would be nearly as effective in our conservation work were it not for Terry's quiet, unassuming presence, an often behind-the-scenes approach that belies the competence and ultimate professionalism he brings to his work every day. Our larger conservation partnership is made both more efficient and effective by Terry's untiring efforts and willingness to take on any challenge. These and many more accomplishments have made him an excellent recipient for this award.