News & Events
Workers Needed for TRNP Reseeding Efforts
10/12/22 (Wed)
Help Theodore Roosevelt National Park Reseed the South Unit Roadsides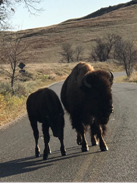 Theodore Roosevelt National Park's South Unit Loop Road has been closed for several years due to landslides. Construction will be occurring to open and make the road safe again. After the construction, 46 acres of roadside will need to be revegetated.
An effort is happening to collect the native seed of several common species which do well along the roadside in the Park. These ecotypic (typical of this ecosystem) native plants are adapted to the sometimes harsh North Dakota environment, enduring drought and extremes in temperature between summer and winter. And these plant adaptations make the seeds germinate and survive better! The targeted species are rabbitbrush, big and silver sage, stiff goldenrod, winterfat, and the purple cone flower. The goal this year is to collect 300 lbs bulk weight seed. They hope to accomplish the goal by Oct 24th.
The seed collection group has a lot of fun! They share knowledge and stories about the plants, animals, geology, and experiences in the Badlands. It's easy, too! They will show you how. You can join them on a Saturday and/or Sunday.
If you are interested in helping collect seeds for this effort, we would love to have you join us - either as a volunteer or as a paid worker at $18/hr. On the weekends, they meet at the South Unit Visitors Center at 9:30am, and stop work by 4pm. Please contact Denise Wilson, deniseclairewilson@gmail.com or call or text with your name to 303-588-6442.