News & Events
October 26, 2023
2023 WWF Plowprint Report Released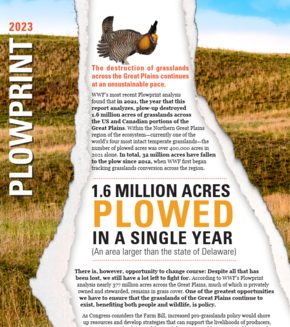 WWF's 2023 Plowprint Report analyzes the rate of grassland plow-up across the US, and Canadian portions of the Great Plains. This analysis is based on the USDA's annual Cropland Data Layer and the Agriculture and Agri-Food Canada's Annual Crop Inventory which looks at grasslands plow-up that has occurred two years prior to the release date. As a result, the 2023 edition reports on plow-up and conversion that occurred during 2021.
WWF's analysis finds that in 2021, 1.6 million acres of grasslands (an area larger than Delaware) were destroyed across the US and Canadian Great Plains, contributing to a total of nearly 32 million acres plowed across the region since 2012.
The 2023 report is available here.